With a new ski season comes great new Briko Vulcano FIS and Vulcano FIS Jr helmet colors. This year, thanks to a stroke of genius from our friends at Arctica, you can color coordinate your Briko ski racing helmet to your Arctica side zip pants and create an outfit that will set you apart form the crowd. Arctica has re-introduced their very popular 50/50 Side Zip Pants in three great new colors that match the new 2017-18 Briko helmets and goggles perfectly.
Briko Vulcano FIS and Vulcano FIS Jr helmets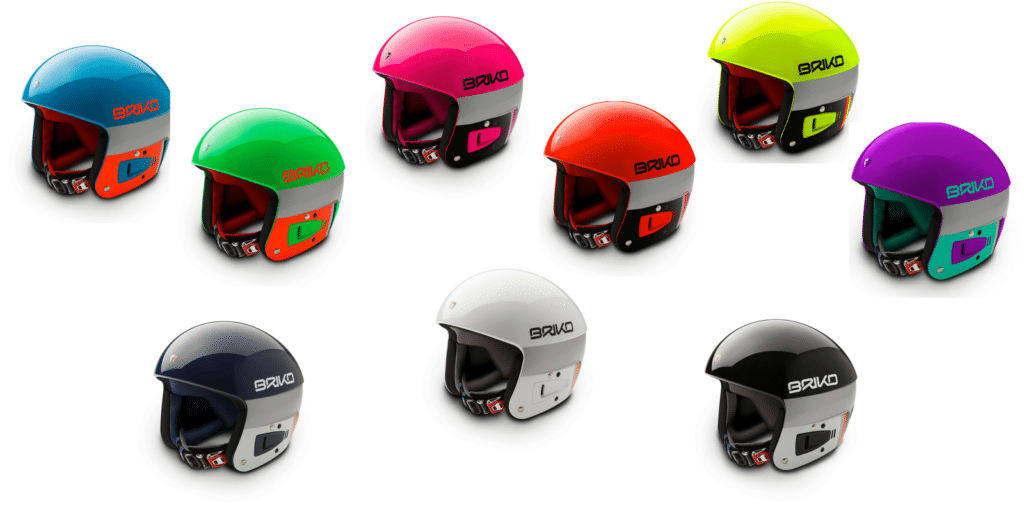 The Briko Vulcano FIS ski helmet is used by USSA and FIS racers worldwide. It is also the helmet of choice for professional ski racers Lindsey Vonn and David Chodounsky Also available from Briko in the same cutting-edge design and bright, fun color combinations is the Vulcano FIS Jr helmet. This versatile helmet is the only adjustable junior ski racing helmet on the market that is FIS certified. Because of this, you will not only get more than one season out of this ski racing helmet, you may even be able to use it for more than one kid!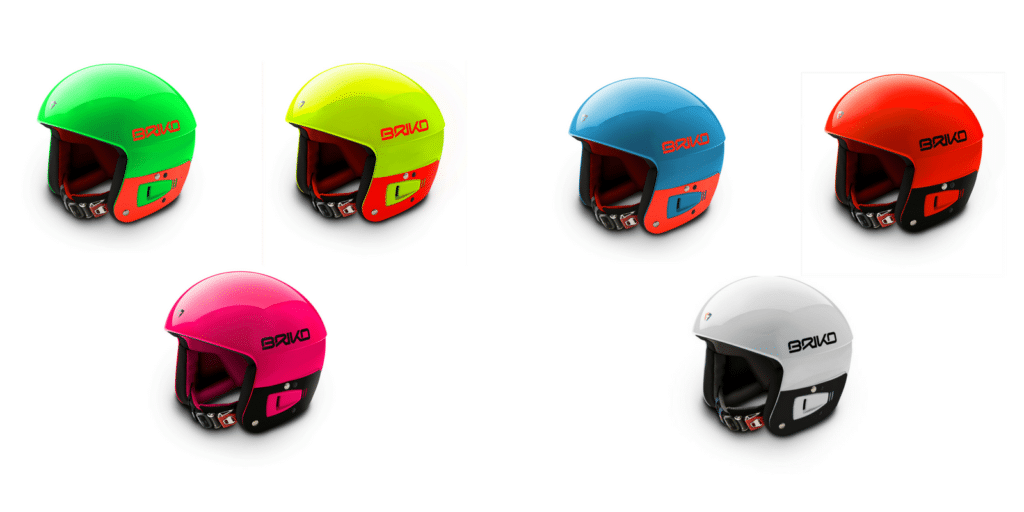 Just like Arctica ski racing pants, these ski racing helmets are available in a multitude of colors. The latest colors to our helmet collection are Green Flouro Orange and Light Blue Flouro Orange. There's a color to match every Arctica pant, not just the new Arctica 50/50 Side Zips.
Arctica 50/50 side zip pants match Briko's helmets
The Arctica 50/50 Side Zip Pants are back by popular demand. Designed for racers to fit over a race suit. They are roomy, but loose or baggy. This year, Arctica has color coordinated this fun and funky pant for ski racers to match the Briko Vulcano FIS and Vulcano FIS Jr Adjustable Helmets.
The Arctica 50/50 Side Zip Ski Pant utilizes the proven design of their most popular pant, the Side Zip 2. Available in both adult and junior sizes, these side zip ski pants are made from a tough waterproof/breathable nylon fabric that is meant for ski racing. This fabric retains color well and is impervious to gate burn. Most noteworthy, they are fully-insulated with 40 grams of synthetic insulation throughout to keep you comfy and warm without bulk. While the covered two-way full side zips make removing these pants at the starting gate quick and easy.
The unique two-color combination will ensure you can find your pants in the pile at the top of the hill. And paired with a color coordinated Briko Vulcano FIS helmet or Vulcano FIS Jr helmet, it will also guarantee you can spot your kid in a crowd!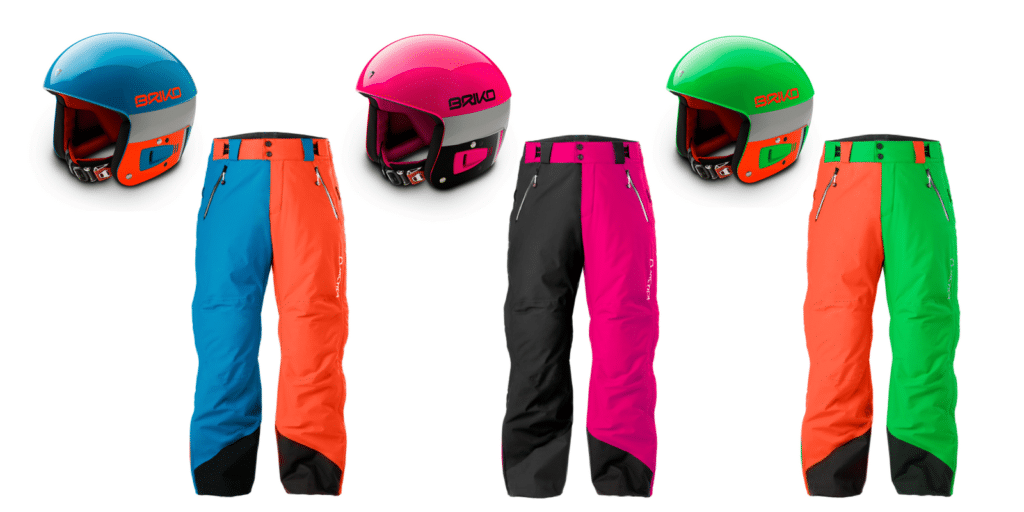 Leading the industry
Briko and Arctica have long been leaders in the ski racing industry. Both brands are constantly innovating to bring you better products. Briko is an industry leader in safety. Arctica is revolutionizing ski racing one article of apparel at a time.
Briko leads the ski industry in safety
Briko set the bar high with our ISPO Award Winning Vulcano FIS ski helmet. It was the first ski racing helmet in the industry to meet the FIS RH 2013 certification rule. Now we continue to innovate with the addition of the Protetto system and our new Fluid™ Brain Science helmets.
Briko's Protetto System
The Protetto is our patent pending anti-concussion shock absorbing system that enhances helmet safety. It comes standard on our Vulcano FIS helmets. The Protetto is an additional ABS shell appendix that attaches at the rear of the helmet. It is flexible and impact resistant and contains inner anti-shock material. When worn with a Vulcano FIS helmet it adds and extra layer of protection at the base of the skull.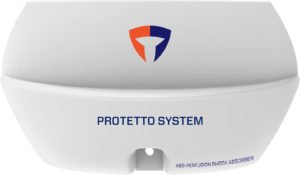 Fluid™ Brain Science in Briko helmets
Fluid™ Brain Science offers total brain protection from linear and rotational impacts. It is based on extensive scientific research and engineered to enhance your helmet's ability to protect your brain by mimicking Cerebral Spinal Fluid (CSF) – your brain's natural protection. Fluid™ acts as a second layer to your CSF by independently and simultaneously managing the linear and rotational forces that scientific research has shown to cause concussions. This innovative technology is now available in our Fluid Vulcano FIS helmets and several other helmets in the line.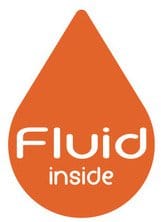 Arctica makes high quality, performance apparel
Known for innovation, Arctica has been providing full side zip race pants in a rainbow of colors at an affordable price 365 days/year to the world of alpine ski racing since 2008. Last year, they revolutionized the ski racing industry with the release of their RaceFlex Speed Suit. Arctica continues to innovate by listening to their customers and solving ski racers apparel problems. This year they released a Goat Leather Race Glove with double the insulation of others in the industry, at half the price.
Shop now
Get your Vulcano FIS or Vulcano FIS Jr helmet now. Then head over to our friends at Arctica or your local Arctica Dealer to order a pair of these great new 50/50 pants to match!
Editors note: This blog post has been edited. Coupon code has been removed.